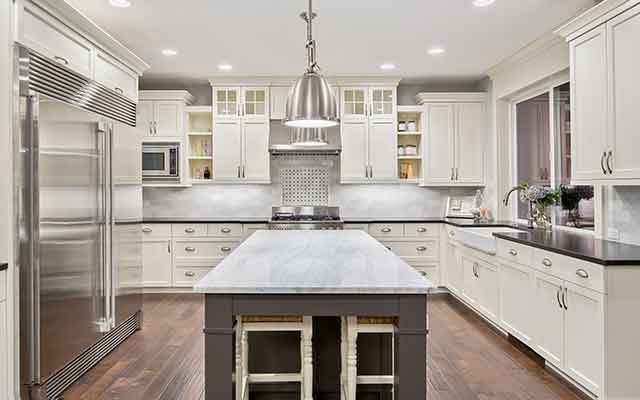 By Sandford Tuey
Wouldn't you love to have a Walk-In Pantry right beside your kitchen? Chef's in the family appreciate having their ingredients and equipment organized and conveniently available. Having easy access to the tools and items needed to prepare meals is very handy. Such a storeroom is an easy way to ameliorate the cooking process and keep supplies out of the kitchen reducing the clutter of your kitchen counters and fridge. Organizing and cleaning your cooking area helps being more efficient and ensures a better chance of not accidently getting food poisoning.
The cooks in the house will love you and be able prepare meals faster and give your family more kitchen space to cook in. This allows for more shelf and cabinet space for other more important foodstuffs and cooking apparatus that are used often to be stored away. Every culinary artist desires a clean and organized kitchen and pantry. There are two ways to design an add-on pantry beside your kitchen. You can build an addition to your home or you can remodel a room beside the kitchen. Consider the following:
Remove all your items that you need to fit into your new pantry. Ensure that none of these products have expired, if some have, throw them away. Only keep what you and your family like to eat.
Think of functionality and what you intend to have your new pantry store. Consider what you will store separately in the kitchen. Imagine how your pantry space will be like, then create a design or have TOTL Building & Design help you create the pantry of your dreams. Decide how many shelves you require, normal or glass-fronted shelves to store and display valuable pieces of china, drawers and where storage bins will be located near the floor.
Obtain the materials for your new pantry renovation. You should put an easy to wash and clean floor, maybe marble, linoleum or ceramic tiles. Vintage brackets enhance shelves of oak or pine and are the latest trend, but any wood of your choice would be fine. Re-sealable canning jars containing home canned products like salsa, crushed tomatoes, soups, pickles, spicy beans and specialty items like paper towels and bathroom necessities and with a complete stock of your favorite foods will help your family be more efficient and organized. You should consider adding hooks to hang nets of garlic bulbs, ginger, onion, apples, bananas and other vegetables and fruit that do not need to be refrigeration.
A magnetic knife & metal utensils hanger provides quick access and keeps them organized. A few Pre-made floor bins on rollers could hold potatoes, yams, carrots and other types of root vegetables. These extras increase the quality of your pantry and life.
Your pantry renovation wouldn't be complete without a new paint job. Neutral colors are best for this area of your home and try to match or accentuate the same color of your kitchen.
Once the walk-in is ready to add the produce and processed & can foods, keep the items that you use most near the door to make cooking quicker. Spice racks should remain in the kitchen but you can store bulk items such as spice, sugar, salt to refill the small spice shakers.
Another important issue is lighting. The overhead light should be bright and electrical outlets would be handy for a small fridge or freezer.
Having a pantry allows you to take advantage of buying items in bulk and on sale, allowing you a place to store multiple supplies, plus save money. Using resealing jars allows you to save money and reduce packaging garbage in our environment. TOTL will assist you to make the best walk-in pantry possible.