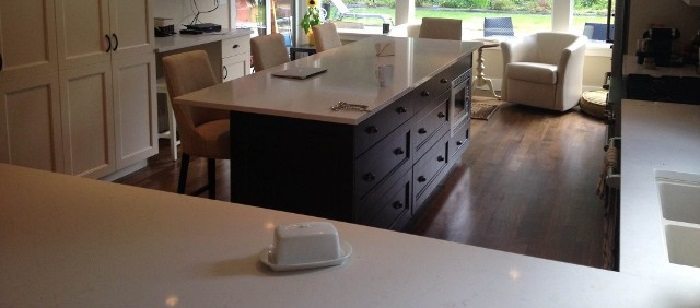 Before you decide on any renovation or remodeling figure out exactly what you want to do and contact TOTL Building & Design to get your job done quickly. We are a reputable general contractor who can help you through the design and construction phases of your remodel, renovation or improvement to your home and business office.
First create your budget so you don't overspend. Thankfully, you won't need a large budget to have interior, exterior and outdoor remodeling competed by TOTL Building & Design. Here are some great ideas for homeowners to implement:
Eco-Friendly Counters
Green remodeling is a great idea to improve your quality of life and save money. Choose from various types of countertop materials that are environmentally friendly, durable and versatile. Consider recycled glass, wood, concrete, stainless steel, laminate, paper composite, recycled plastic and natural stones, such as granite, marble and quartz.
Paint with Neutral Colors
Neutral colors are in style. Certain colors help people sleep, improve emotional levels and impress visitors. You can select colors that go with any type of décor. When you sell your home, neutral colors are less likely to turn people off.
Water Fixtures
Designer faucets are very popular and have great quality. Chrome, silver or gold, brass and are the favorite style right now. Whichever type of faucet you buy ensure it comes with a lifetime warranty.
Bathroom
Instead of ceramic tile you can improve your panel with fiberglass to enclose your bathtub area. Fiberglass is more affordable, it's also faster to install, so it has lower labor costs.
Outdoor Deck or Gazebo
Wouldn't you enjoy relaxing outside on nice days and nights? Lounging with friend and family time are ideal on a deck or gazebo. You could install an above-ground pool and deck. Or even take on a larger project like an addition of a back porch. Outdoor constructions like these are very popular.
Build A Gas or Wood Fireplace and Vent
A warm fireplace enclosed in a wooden or natural stone can enhance your living room, kitchen, or other room in your home and business. You could improve the ventilation by installing a pipe to direct smoke of the fire outside.
Upgrade Doors and Windows
You can do this for decorative or energy efficiency reasons. Older homes can benefit from new eco-friendly exterior doors and better windows will help to reduce power bills.
Any ideas you have for your home remodeling project, TOTL Building & Design can help you from concept to completion.