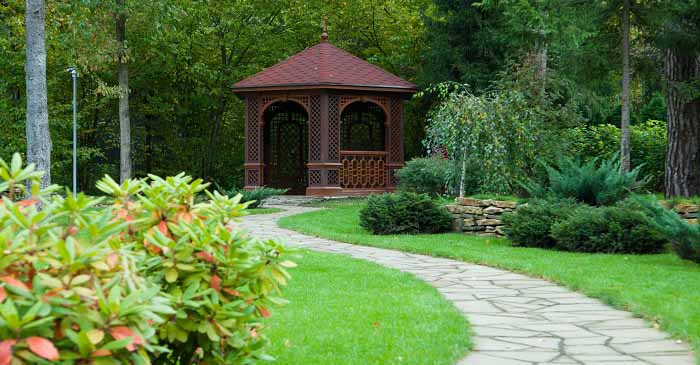 Organize your front and back yards by removing all clutter and unsightly detritus. Clear garbage area or even build a garbage can enclosure to hide the sight and smell of it. Dig plant beds, trim hedges and lawns, plant flowers and trees plus be creative with the landscaping to emphasize your personal touch and lifestyle. Try to remain somewhat conservative as too flamboyant or colorful could make potential buyers balk at submitting an offer or may submit a lower price than you desire.
Walkways
Concrete slates, interlocking bricks or a paved walkway from the sidewalk to your front door brings a certain elegance to your home. Adding the same improvements to your back yard can improve house value and a safer access to your patio, garden and other backyard design features. Don't ruin your back placing and leveling hundreds of bricks or stone plates, just contact TOTL Building & Design to take care of this for you. Choose from different designs and stone varieties, concrete plate grains and shapes or types of pavement textures and colors.
Canopy and Gazebo
A gazebo and canopy are great ways to create shade, keeping your family and guests cool during summer months. Gazebos and canopies can range from intricate architectural pieces to simple affordable designs. A canopy can consist of four poles in the ground and a piece of thick, water-resistant canvas or tarp. You can be extravagant and have us build a wooden slat roof or attach shade coverings of your choice with rings, tacks, or ties to create a unique structure. Gazebos are a great place to sit outside and admire your property and relax. They can be any size, shape or made of the materials you chose. We would love to help you design and construct this beautiful addition to your backyard.
Fire Pit
Nothing says relaxation like your favorite drink with friends around an open fire. A fire pit is the perfect addition to the patio and can be a BBQ too. You can use bricks or stones to line the pit, creating a fireproof barrier and enhancing your property. With the addition of a wood storage shed you will be ready any time for a new ambiance and toasting marshmallows.
Patio and Deck
A patio with a walkway will enhance your backyard and increase the value of your home. By contacting TOTL Building & Design you can have the patio of your dreams, be it a stained wooden or stone style.
Landscaping
If you already have some plants lining your patio or in your front yard, a little bit of landscaping will greatly enhance the natural beauty of the plants as well as add an attractive design element to your home. The types of trees and plants you add will change the look of the property. Just adding rocks, fencing, gardens, gravel or wood chips to plant beds is a nice touch. Bedding like this will help with drainage and prevent birds or animals from eating plant roots. Tall hedges and fencing not only look great but also increases your family's security.
Easy Yard Improvements Impress