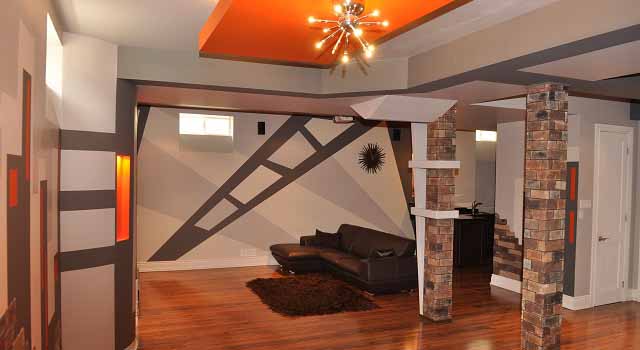 By Sandford Tuey
Finishing an unfinished basement will usually double the square footage of your home and increase your living space at the same time raising the value of your real estate property.  All that is needed is to decide what you desire and then remodel this precious unused area.  Here are a few ideas:
 Renovating basements are usually converted into a recreational room for relaxing, entertaining guests or just a place to allow kids to go to play games, enjoy their loud music and video games without bothering you upstairs with noise, while you watch television, read or other tasks.  By sound proofing the basement ceiling helps reduce the children's yelling, rough housing and loud activities below you.
An extra washroom downstairs allows for you, guests and unexpected family visitors who need to freshen up, should the upstairs wash room be busy.  Adding a shower, sink and toilet may require a plumber or can be a do-it-yourself project.  If you need advice or help designing this handy facility then contact TOTL Building & Design to make it perfect.  I recommend it be near the stairs for quick access and for your guests to use when you are entertaining friends, that way you have another option when the main restroom is busy, instead of allowing guests to go head through your master bedroom's bathroom to use your personal bathroom.
A guest room and second washroom is a great addition and a perfect way not to be surprised by unexpected family and friends, especially those that show up any time of day or night. So be prepared for these visits by remodeling an unfinished basement, that way you will always be ready and reduce the stress of such events.
How about a sound studio?  If you enjoy Karaoke with friends and family or always wanted to be a professional singer, but reality / life got in the way, you could practice and even record your preforming.  Build a mini-music studio to perfect your voice and talent.  Start out small with one microphone, a small mixer recorder, like an 4 or 8 track Fostex, which is better than what the 1950's superstars recorded their hits on.   If you want to get serious, head to a music store and choose what you want to do to do a professional job.  A Midi compatible computer will be needed to edit your songs, music and videos and to burn a CD/DVD.  If the Rec room is soundproofed this will be sufficient for a home recording studio and to launch your new career
.
A small suite downstairs for Grandparents to rent, will not only increase your family's monthly income but they will be more than happy to help you, babysit and take care of their grandchildren when you must work or go out on a rare date, they may even tidy up like a maid would do.  If you want to cut down on child maintenance costs and free up time for you and your spouse, this is the best way to remodel this unused space.  They may even look after your plants while you are out, collect the mail so it doesn't pile up outside the front door (which is an invitation to thieves signaling nobody's home).  Don't become a target anymore.  Grandparents will be happy, trust me I know.  My parents remodeled our basement to allow my Grandmother to live down stairs and my parents loved it, as she increased their bank account, the number of couple only dates, attended more parties and events.   My parent's overall mood improved (that's a good thing for children).  Or you can renovate your basement to have a renter to improve your income and help cover the costs of living.
A game room with a pool table, foosball table, dart board, poker table (that can double for the kids to play cards & board games on).  Add some shelving and cupboards for snacks or a place to store the kid's toys.   A second fridge is great to keep your beverages and extra food cold, plus is a good reason to buy that new refrigerator.  Get a big screen TV and a small pub like area in the corner for your alcoholic spirits and glassware to serve the many friends that will be coming over more often to enjoy the games or movie premieres. This entertainment room allows you to always be ready for no matter what happens during your hectic life.  When you want to send the kids downstairs, they will be more than happy to head for the basement.  Enjoying sports events, music and movies or just relax and chill in your new addition.
Ever wanted a mini-theater in your home?  Big screen TV's have advanced tremendously, they are thinner and provide much more detailed images than they used to but get one that can use Blu-Ray DVDs.  Installing surround sound will enhance your viewing experience and can also be used for Karaoke time, enhances.  When you desire peace of mind or want to just relax and read a good book you can enjoy this oasis from noise and the chaos of life.
Consider a home office if you are thinking about forming a company or already have one or to have an organized place to do your taxes or work you bring home.  By converting your entire basement into an office. you are legally allowed to write off this expense from your taxes. This sometimes is half of your living space and then qualifies to tax deduct half of your home's mortgage cost or rental cost.  Also, the phone, business supplies (very vague tax law because it depends on what business you are in), soring company products and an area to conduct your business separate from the domestic reality upstairs.   The key is to 'intend to do something and even actually do what it is you want your company to do.  Choose something that you love to do and has the potential to make money.  It doesn't have to make money, but if you are doing your best, all the business income tax credits and deductions become available to you.  Well worth it!  Everyone should own a corporation, if only for the reduction of your tax bill, to take advantage of tax deductions and benefits.
No matter what you decide to do to renovate your basement, you will instantly enjoy and love the choice you made.
The options for what you can do with your basement are almost unlimited.