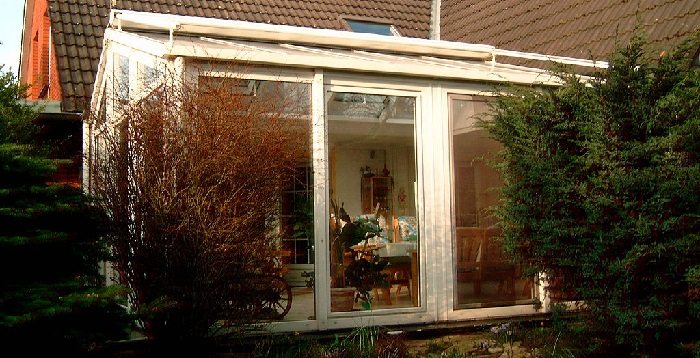 By Sandford Tuey
If you desire a room to lounge or read a book in or just soak in the sun in a semi-outdoor scenario, then a sunroom is right for you. It is a great place to get a suntan in the summer or winter and an open-air part of your home bringing you closer to nature. It is a great place to invite friends over for tea or coffee and snacks. Best of all, if you frequent this pexi-glass surrounded room you will receive plenty of sunshine adding to your vitamin D supply that is vital to your body to function, yet you don't have to go outside.
If you want to create a Greenhouse for plants and other gardening projects, then this is the way to go for you. The components that you use it to construct a seasonal room will help you select the type of room you need. Here are 9 points to build your sunroom or greenhouse.
Deciding the optimum location for your sunroom / greenhouse is critical when planning a glass or screen or both add on.
Northern climes require a southern exposure because it will receive the most light. Should you want an eastern exposure, this room will receive sun in the morning but partial shade most of the day. A western exposure will provide hot sun in the afternoon and may require shading. A northern exposure will give you lower levels of light and partial shade most of the day.
In the North, this can cause the room to be too cool and damp.
White vinyl is the most popular material for the supports. It costs the least, requires minimal upkeep, and offers the best in overall strength and insulation. Most vinyl supports are "multiwalled," meaning they have an internal reinforcement of either aluminum or galvanized steel.
Aluminum is not as good an insulator as vinyl yet is usually more expensive. Most people use aluminum for the roof of their multi-seasonal room but this becomes very noisy when it rains or hails.
Wood is more expensive structural material, but is a more appropriate choice for screen rooms, easily allowing you to attach the screen mesh to the wooden frame. Wood requires periodic maintenance.
Sunrooms, four-season rooms, and greenhouses are walled with glass and roofed with glass or polycarbonate (a tough, transparent thermoplastic). A glass roof is more expensive but provides the most clarity. Ensure the U-value of the glass or polycarbonate, which is a measure of how much heat the material conducts. The lower the number, the less heat passes through, so choose the lowest U value.
Glass walls or double glass should be silicone double-sealed, A-rated, and labeled "tempered safety" to meet building code requirements. The best choices are:
Double-glazed glass. This offers durability, insulation, and glare reduction. A typical U-value ranges from 2 to 2.5. Double-glazed coating provides a "low-E" coating helping the glass reflect heat and ultraviolet rays to improve energy efficiency.
For polycarbonate components 6-millimeter twin-wall is recommended. This is the most popular glazing option in conservatory roofs today, this material features a U-value of 2.3.
20-millimeter and 25-millimeter polycarbonate is a stronger roof material and provides a U-value rating of 1.6 and is perfect for your all-season room
Keeping your room at the perfect temperature is crucial for comfort and for growing plants. You should also consider the following:
Add adjustable skylights to help to release excessive heat to ensure the room doesn't get too warm.
Use prefabricated insulating roof panels or double glass roof panels. Make sure you use R-factors of R-16, R-24, or R-32.
The higher the number, the better the insulation quality).
Construct walls with several windows that open. Place these so that they work together to provide optimum air flow.
Installing ceiling fans will aid air circulation and cool the room down so it does not get too hot. Choose fans with forward and reverse speeds for summer or winter use.
Install exterior shade tracks to hold rigid exterior sunscreens.
If so desired, choose window treatments that can be raised and lowered.
Install a small heater that you may need during colder months. A more expensive option is to install radiant floor heating.
Once you are finished constructing your all-season sunroom / greenhouse, you can relax indoors, while enjoying the outdoors or grow herbs, plants and fruit trees in a protective environment. This will ensure that the foods you eat are GMO free and fresher than buying from a grocery store plus easy to access.
Should you want someone to design and build your addition, call TOTL Building & Design to allow you to sit back and supervise / have a tea or coffee instead of the hard work.
Photo by Andreas-horn- Hornig