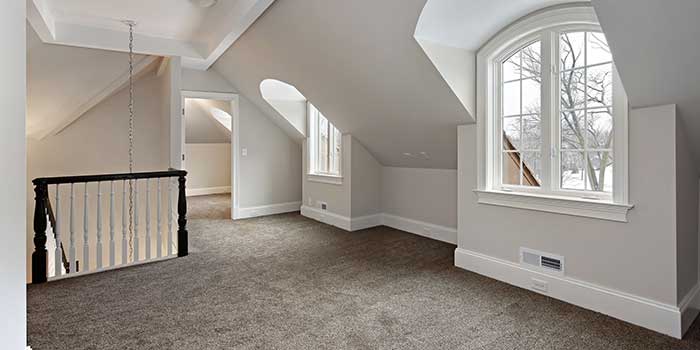 By Sandford Tuey
The next time your relatives congregate for the holidays at your home and you run out of rooms to host them in, why not utilize that empty space in your attic? You would be surprised how much room there is up there! The space over your head can be transformed from an ordinary unused area to a room of your choice (bedroom, safe room, storage room or any type of room you desire). All it takes is a little imagination.
Attic Preparation Designs
You must first establish if your attic is convertible into the kind of room you want. Does the angled roof allow for enough clearance? Ensure the angle of the slanting ceiling is taken into consideration and incorporate it into your room design. Is there space for a regular staircase up to this new room or will it require a pull-down stair ladder to access it?
Because this odd space has angles and possibly no flooring or closed in ceiling, it may be necessary to add insulation and seal the ceiling with a plastic liner before putting on particle board to ensure the insulation dust cannot drop down on anyone. Usually there is no flooring on the horizontal rows of 2 by 8's beams, yet TOTL Building & design can help you with your flooring material choices and the actual renovation work.
Construction
Begin by acknowledging that the area beneath the ceiling is very versatile and a great way to increase the square footage of your home, which enhances the sales price and allows real estate agents another room to show off.
You may desire to add more head room by cutting out rafters as long as you replace these load bearing beams with another way to ensure the roof remains solid. If you want to brighten the area you can add roof windows or a skylight and insert windows in the gables at either end of the building. There may be air conditioning and heating ducts that will need to be addressed. You could have to reroute electrical wiring and plumbing exhaust piping but with the right professionals this is not as hard as you may think.
The most important item is to make sure the floor system is sturdy enough to allow people to walk on it. If it needs more floor joints, add treated solid wood beams of the same type originally inserted, then secure the type of flooring you have chosen on top of these horizontal beams.
Enhanced Value and Real Estate Appraisal Price
TOTL Building & Design are construction and renovation experts. You can benefit from our experience and we provide elite craftsmanship and superior customer service. We can make your conversion of your attic an easy task. We look forward to assist you with any renovation.
Once your attic is completed, you can add this extra square footage to your home's overall living area. This increase of space translates into a higher value and sales price for your home.