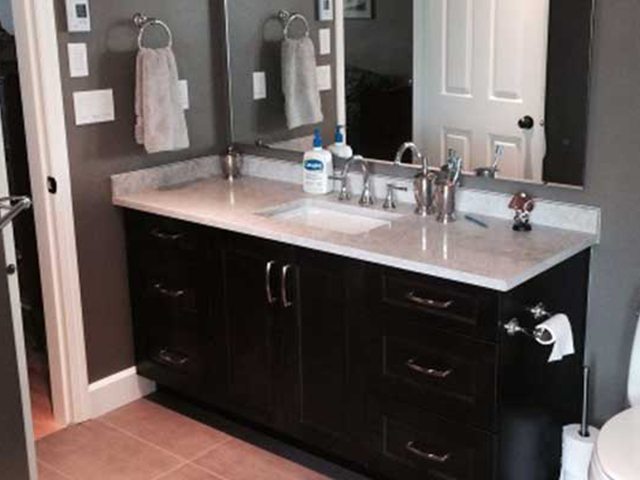 We've all heard the horror stories about a bathroom remodeling project gone terribly wrong. In fact, if you watch TV long enough, you'll realize that there is a cottage industry of television programming based on good contractors that come in and clean up messes left by others. With so many ways it can go wrong, it is amazing that anyone decides a bathroom remodeling project should even take place.
It is important to keep in mind that no one goes into a remodeling project thinking things will go wrong. More often than not, it started innocently enough with a sweet couple thinking that a room in their home could be spruced up a bit. They had a bit of a vision, walked around the big-box hardware store to get ideas & inspiration, watched a lot of home renovation TV programs, and then they finally decided to take it on.
Sounds fine, right? Notice, however, that a plan was not mentioned. You'd be surprised how often a bathroom remodeling projects start with home construction & the easy stuff coming down. Do not do this. Before you do anything, be sure to have an actual plan in place that has seen some consultation with a designer, contractor, or better yet, a plumber so that any issue that could arise is addressed.
Perhaps the one item that tends to get lost in the mix of a bathroom remodel is the importance of a realistic budget. Dreams are nice, but they are not rooted in reality, and, as such, your project budget needs to take into consideration realistic matters such as just how much of the bathroom is being remodeled and how much money you actually are prepared to spend. Probably the hardest part of making a budget is making compromises. Remember one important thing – you want to remodel your bathroom, not go bankrupt.
Also, understand that even with a significant amount of planning, things come up, and you have to be ready to be flexible. Let's use the same TV renovation shows mentioned before. There's one show in particular that makes it a habit of always finding something wrong during the process, which makes the homeowners scramble to sacrifice a desired element of their renovation dream. Now, it makes for nice TV drama, but there is truth to some of it. If you stay steadfast on having it go only one way, you'll drive yourself batty trying & possibly cost yourself more money. By being flexible, your project may take on a new purpose that may be more beneficial to your home than an exceptionally "more awesome" toilet than the one you had before.
Finally, make your money work for you. Maybe a full-on bathroom remodeling project may not be what you want, but you have your eye set on a better shower or vanity area. Focus on that & get the right service for the job. In that vein, if you do take on a contractor, sit with them & let them understand that regardless of how small or large the job may be, you are in charge & will be an active participant in the remodeling process.
Contact Steve's Plumbing Repair in Austin for your bathroom remodeling needs.
Article Source: How To Avoid Disaster During Your Next Bathroom Remodeling Project