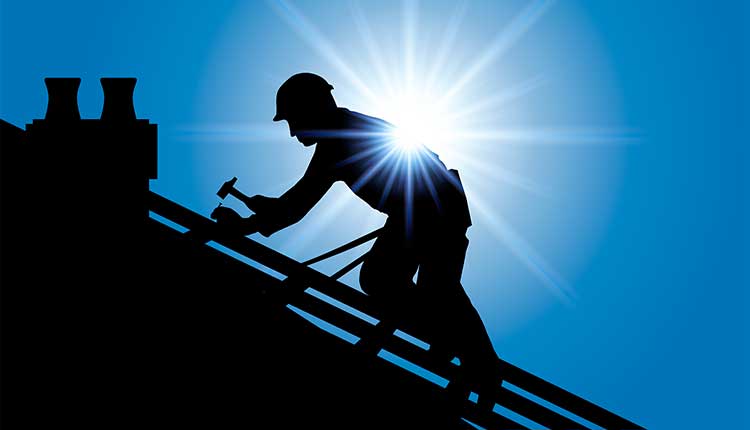 As a homeowner, you are constantly trying to make sure your home is in its best condition. However, when disaster strikes, you may need more than just a DIY attitude. Finding a good roofer, for example, is at the top of the list of "musts" when it comes to storm damage, as well as long-term home upkeep. Finding the right roofer is not easy, and when you have the added pressure of fixing your roof ASAP, it gets harder.
Taking the time to think clearly, calmly, and logically can make the difference in getting the job done right. Here are five basic, though important, questions you can ask to help find a good roofer:
1. "Do you provide a written estimate for the repairs?" There are a number of roofing businesses out there that will give free estimates after taking a look at your home, but the reputable ones take the time to give you an estimate in writing. A good roofer will be exhaustive in looking at the damage and take notes. While they may give a general "ballpark" number while they are there, they are quick to note that a written, comprehensive breakdown of cost is best for you to make a decision. It allows you, the homeowner, to be more vigilant about costs during the whole process.
2. "Are you a local company?" When stormy weather comes through and causes significant damage, it is hard to know what steps you need to take to get things back to normal. Unfortunately, there are many "fly by night" companies that take advantage of this confusion and promise more than they can provide before leaving town. It is important to verify if a roofer is local and has a physical store front/office. The company tends to be more accountable because they are part of the community.
3. "What kind of insurance do you carry? Do you have a good workman's comp policy in place" This is a combination of questions, but the message is clear — you are asking whether the company can cover costs in case something happens to someone during the job. Should something happen while a crew is on your property and the company is not covered, you could be liable for it, and considering the stress you feel about your roof repair, you could be dealing with an even bigger headache.
4. "Will there be someone with whom I can communicate from start to finish?" As the homeowner, you need to be able to have conversations and interact effectively with the crew. You do not want to "kinda" understand things or "sorta" see what will be happening; you need to be in the know the whole time. Depending on the size of the company, you may have either a general site manager or the owner him-/herself on the job. No matter the situation, you must have a point-of-contact you are comfortable with and fully understand.
5. "What type of warranty do you offer?" Getting a new roof should mean peace of mind for a homeowner because the roof should have quality that spans about two decades or more. Even then, you want to be sure that the company stands by their work. A written warranty of what their responsibility is to you is essential.
On the whole, your role as a homeowner involves doing your homework and researching prospective roofing companies. It is important to be thorough, but you must also take your time.
Visit the BBB of Fort Worth for more information about other ways to find a good roofer for your home.
Article Source: 5 Key Questions That Help You Find A Good Roofer